JamHub Silent Rehearsal Studio-
Gaining it's popularity here in Singapore

.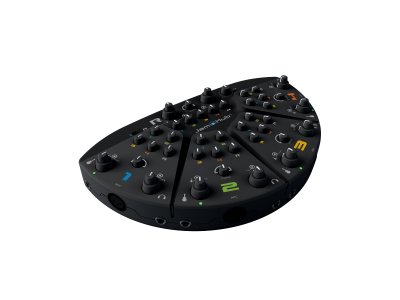 What are these BedRoom/GreenRoom/ Tourbus actually?
1) It has combined features of mixers into 1 compact and useful device for musicians.
2) With assigning knobs to select your desire channels to monitor.
3) A mini studio for instruments/ vocalists to bring with them everywhere and even travelling.
Maybe
, we can also hook up our PCs audio to JH for gamers? You select which players you like to monitor. Will this be interesting for Gamers? Will have to ask Gamers.
Why JamHub?
1. You spend less to rehearse now
3. You can now rehearse everywhere and @ anytime
4. You don't need a big space
5. You don't have to pay for your Jam sessions now with JH.
6. You save more & more

*
7. You can choose what you don't wish to hear ; )
8. You don't have to practice alone now
9. It's a mobile studio setup for all!
10. Now, "THEY" want to hear what you are practicing from outside ; )
11. Now, you make "them" feel uncomfortable
12 13,14...................
http://www.facebook.com/pages/JamHub/90881721589
Local News:
Now, you save more with any JamHUB unit you purchase.
1) BedRoom you purchase, we include 2 Extra MONO to Stereo adapter FREE!
2) GreenRoom or TourBus, we include 3 Extra MONO to Stereo adapter FREE!
Looking for Headphones for your JamHub unit?
With any JamHub unit you purchase, you can also purchase the specially selected headphones at special discounted prices.
1) CAD Audio DH100 - Drummer/ Musician Isolation headphones
(
http://www.cadaudio.com/DH100.php
)
2) Direct Sound EX-25 - Musician headphones with approx 25dB attenuation
3) Direct Sound EX-29 - Musician headphones with approx 29dB attenuation ( Top seller!!)
(
http://extremeheadphones.com/info.html
)
Offers/ discounts & free accessories are subject to change without notice.
Now nobody hears you and you hear nobody. Just play and monitor.
* WARNING! Avoid long hours of listening through headphones, especially at high level.
Check out these products at our local dealer outlet.
* Interested resellers, please email to
audiobridge@yahoo.com.sg
.

Hung Brothers Electrical Trading
Add: 1 Rochor Canal Road
#03-83 Sim Lim Square
Singapore 188504
SINGAPORE
Tel: 65 6336 9989
Fax: 65 6339 4768
email: sales@hungbros.com
Operating hours
(All JamHub promotions are only for local sales only. We do not ship these products out of Singapore if there is already a distributor/ dealer in your country. Walk-in purchases are welcome!)
PR28 Drum Mic The PR 28 is the premier drum microphone designed for toms, snares, bongo and many other applications ( Arrived!!)
PR48 Kick Drum Mic
The PR 48 kick drum microphone starts with our 1.5" large diaphragm dynamic element sealed in a vulcanized shock mount and fed with a specially designed low pass filter that creates a 10 dB rise from 60 to 100 Hz. - right where the kick drum resonates.
( In stock again!!)
PR22UT Dynamic Handheld Microphone
The PR 22 represents completely new dynamic microphone technology designed for a wide range of professional applications such as live sound, commercial broadcast, and sophisticated recording.
( In stock again!!)
One of our most popluar handheld microphone from Heil Sound.
Check out on PR35 Large daiphragm DYNAMIC Handheld microphone too!
HH-1
The HH-1 mounts (patent pending) are for use as the tom mounts of the PR 28
B2D
Miniature Directional Lavalier Microphone
Features:
interchangeable connector ( XLR phantom, TA5F, TA4F, 3.5mm locking)
5 colours to choose: Black, White, Beige, Tan & Cocoa
accessories: single/ double isolation ( optional) mic clips
The B2D mic is easily the smallest directional lavalier in the world, with the next smallest mic being more than twice its size. Combined with exceptional sound quality and isolation, this tiny package opens up a new set of miking options that were previously unavailable. The tight hypercardioid pattern gives the B2D an extra 6-10 dB of headroom compared to an omni lav, meaning less problems with feedback, ambient noise, room rumble, and phase cancellations with multiple mics.
Applications
Easily hidden in hair/costumes or taped on performers' faces in film, theater and broadcast.
Well-suited for news anchors, interviews, lecturers, churches, schools and general lavalier applications.
Performance
Tight hypercardioid pattern rejects surrounding noise 6-10 dB better on average than an omnidirectional lavalier.
Low distortion at SPL up to 140dB (W6 sensitivity version).
Super-rugged cable boasts greater than 45 lbs break strength.
Accurate frequency response tuned for excellent speech intelligibility in chest and head worn applications.
Detachable cables allow swapping from one wireless transmitter to another, or to an XLR input on the mixing console.
Style & Comfort
Smaller than the cable of other lavaliers.
Comes is five colors to blend with clothing and skin tones.
Easily hides in plain sight by swapping colored caps to match button hole, sweater weave or skin tone. Use a felt-tip marker to color the white caps to get an exceptional match.
Durability
Built to withstand perspiration and makeup, for use in hair or on the body.
Protective cap is easily removed for cleaning or replacement when clogged with makeup.
Aramid-reinforced cable withstands heavy use.
view the B2D @ NAB2011, Las Vegas USA.
* According to factory's advise, this product will be shipping in June 2011.
http://www.countryman.com/store/product_b2d.asp
Share this